Contract Manufacturing: Overview
Futaba History

Futaba Corporation is a global company that was established in 1948 as a manufacturer and seller of receiver vacuum tubes. Utilizing vacuum tube technology, Futaba began manufacturing vacuum fluorescent displays.
In 1962, Futaba began producing radio control equipment as well as press die set components, establishing what still remains as two of the company's primary divisions. This was followed by the development of mold base components, VFD modules, and the more recent additions of OLED and capacitive touch devices to complete the lineup of Futaba's major products.
Futaba's primary business groups include an electronic components division, machinery & tooling division, and electronic systems division. With over 5,500 employees worldwide and annual sales over $600 million, Futaba has firmly positioned itself as a leading provider of technology and high quality manufacturing.
Huntsville Facilities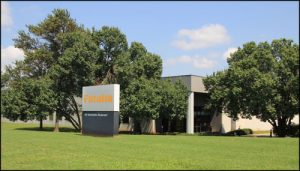 Futaba Corporation of America (FCA) opened its Huntsville plant in 1989 in order to provide engineering support for Chrysler, be a quality inspection point for Vacuum Fluorescent Displays, and warehouse inventory.
In 1998, Futaba began providing contract manufacturing (CM) and original design manufacturing (ODM) services to handle customers' demand based on Futaba's outstanding quality. Since then, Futaba's Contract Manufacturing Services have grown annually at 30% (2012), 24% (2013), and a projected growth of 37% in 2014.
FCA's goal is to offer outside companies an expanded range of services including design and engineering, prototyping, and full assembly.
Business Advantage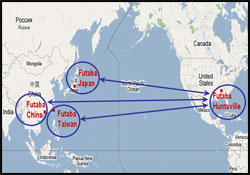 Leverage Futaba's global footprint
Purchasing coordinator located in Huntsville
Pricing advantage for BOM
Leverage US based location (Huntsville, AL)
Lower logistics expenses:

Shipping
Customs
Supply base
Leverage Futaba's experience in key markets
Automotive
Commercial
Industrial
Telecommunications
Medical
Appliance
Bottom line, we understand what you need from your contract manufacturing service provider, because we've been a manufacturer in several markets for over 60 years. Contact us today to see what we can do to help you succeed.