A touch panel is a sensor device manufactured by forming transparent electrodes on a glass or film substrate.
Types of Touch Panels
There are various types of touch panels such as capacitance type and resistive film type, but Futaba Corporation develops and manufactures capacitance type touch panels.
Touch panels are used in combination with display devices such as liquid crystals.
How do capacitive touch panels work?
Our touch panels read the touched coordinates by detecting changes in capacitance.
When you touch the screen of a display with a touch panel, its position coordinates and operation information are processed by the microcomputer or software.  With this capability, you can switch screens and start applications. It enables intuitive operation by directly touching the screen without an input device such as a keyboard or mouse.
Touch Panels are indispensable today!
With the spread of smartphones, the adoption of touch panels for home appliances and cars is spreading, and touch panels are becoming indispensable for displays.
Touch Panel Construction
The X electrode and Y electrode are configured on one side of one glass substrate, and the structure is such that signals are taken out from metal wiring via FPC / COF.

How Touch Panels Work
The electrostatic touch panel has X and Y electrodes composed of transparent electrodes.
Each sensor line is scanned in sequence, and the position of the center of gravity of the touched position is calculated from the amount of change in the capacitance of each sensor, and that position is detected as the touch coordinates.

Features of an Electrostatic Touch Panel
The capacitance method enables touch coordinate detection with a light touch.
Multi-touch input is possible, and gesture input is also supported (screen enlargement / reduction, page turning, and tap operation are possible).
The sensor is constructed on a glass substrate and achieves high transparency of about 90%.
Since it has a single glass substrate structure, it can be made thinner and lighter.
The detection circuit consists of a one-chip dedicated controller, and can be provided in the form of being mounted on the output tail (COF).
Example Touch Panel Products
We provide touch panel solutions that meet the needs of our customers, from single sensor glass to touch panels with decorative covers.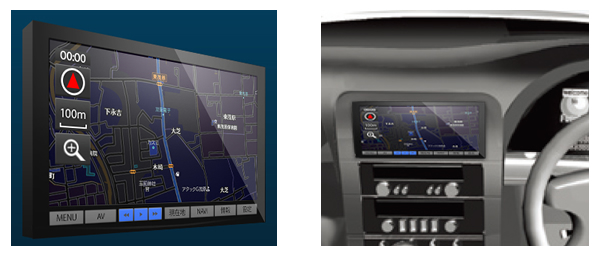 Futaba Standard Touch Panel Lineup
Please wait a moment.  We are currently preparing a new standard lineup.
Inquiries for Futaba Touch Panels
We would love to talk to your about your touch panel needs.  Please reach out to us via our Contact Us page.