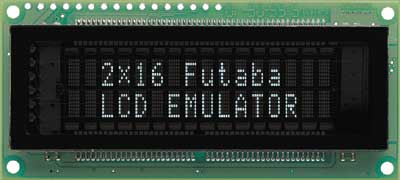 PRODUCT FEATURES
Module
Number
Rows X
Characters
Character
Format
Character
Height
Module
Dimensions
Typical
Power
Luminance
NA162SD07
2 x 16
5 x 8
5.34 mm
80 x 36 x 18.7 mm
5V, 120 mA
500 cd/m2
Parallel and Synchronous Serial Interfaces
Excellent Contrast
Low Power Consumption
Wide Temperature Range
(-40C to +85C)
Self-Illuminating, No Backlight Required
Wide Viewing Angle
8 User Definable Characters

 

Various Colors Using Filters
4 Luminance Levels
Busy Bit Always Zero
External or Internal Reset
English-Katakana or
English-European Font
2 MHz Data Rate
GENERAL INFO
he Futaba LCD Emulator Vacuum Fluorescent Display (VFD) modules consist of a multiple character by multiple or single line 5x8 dot matrix display, DC-DC/AC converter, and controller/driver circuitry. The modules are designed to be directly compatible with industry standard liquid crystal display (LCD) modules that utilize the Hitachi HD44780U LCD controller/driver. The modules can be configured for a Motorola M68-type parallel interface, an Intel I80-type parallel interface, or a synchronous serial interface. A character generator ROM with 240 5x8 characters is provided along with RAM for the user to program an additional 8 characters.
The luminance level of the VFD can be varied by setting two bits in the function set instruction, which are "don't care" bits for LCD modules. Additional options include English-Katakana or English-European character font, with or without a connector, and internal or external reset function.
A primary advantage of these modules over industry standard LCD modules is that they have a dual-port RAM that allows data and instructions to be sent to them continuously. Thus, the busy flag is always 0 and the host never has to read the busy flag bit to determine if the modules are busy. Due to this feature, the execution times for each instruction are not specified.